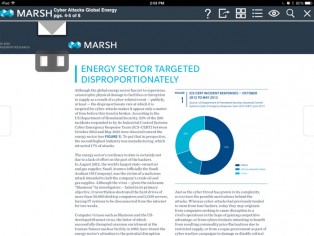 Cool and insurance normally are not typically found in the same sentence (like ever!). But our industry is finally waking up to global technological advances. We want to impact the lives of our customers by understanding needs better and growing relationships through social media. We want to help you make better decisions, capture and analyze data through targeted apps. Our industry still lags our peers but the opportunities are limitless at the pace we are going.
The National Oceanic and Atmospheric Administration's (NOAA) outlook for the 2014 hurricane season calls for eight to 13 named tropical storms in the Atlantic Ocean. Among those, NOAA predicted three to six hurricanes, including one to two major hurricanes with Category 3 winds or higher. In the Eastern Pacific Ocean, NOAA predicts 14 to 20 named storms, which includes seven to 11 hurricanes, of which three to six are expected to become major hurricanes.
Your business doesn't have to suffer physical damage in order to incur significant uninsured contingent business interruption and extra expense losses due to disruptions to your operational chains.
The problem is such contingent interruptions are not typically covered under the standard business interruption policy and upwards of 80% of Barbadian businesses do not have adequate continuity plans to respond in time of homegrown or international crisis. If you fall into this category you need to read on and take our recommended action.